New Lanark tenement block nets Heritage Lottery cash
February 24 2014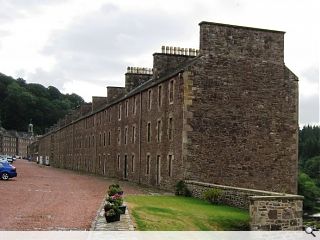 An A-listed tenement block in New Lanark, currently languishing on the Buildings at Risk Register, is to be turned into new housing and a museum after securing £1.6m of Heritage Lottery money.
Double Row is the last remaining tenement to be refurbished in the 18th century conservation village, with seven tenements being returned to residential use whilst the eighth is turned into a new visitor attraction.
The rubble built block was built from 1756 as mill worker housing for the
expanding industrial settlement
but has lain empty since 1968 when the mills fell into disuse.
Lorna Davidson, director of New Lanark Trust, said: "This is a big step forward for New Lanark Trust in finally achieving the restoration of Double Row, the last tenement block which remains to be brought back into use.
"New Lanark is a Unesco World Heritage Site and conservation standards require to be world-class.
"Some of the earliest restoration work carried out in the village in the 1960s is now in need of upgrading and it is extremely encouraging that HLF recognises and supports the significance of the works that we are planning to carry out."
Back to February 2014