Budding architects lap–up Minecraft depiction of Dundee's V&A
February 21 2014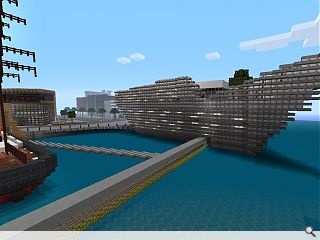 Construction of Dundee's new V&A museum hasn't even have begun yet but that isn't hampering a select band of video gamers from experiencing the showpiece attraction before a single brick has been laid.
Artists working for Dundee videogame firm 4J Studios have made this possible after publishing an architecturally inspired 'texture pack' for the hit video game Minecraft– allowing a painstaking digital depiction of the city's soon-to-be V&A museum to be built.
By taking Kengo Kuma's design and translating it into the virtual world of Minecraft the team have been making waves in the real world with a front page splash in the Evening Telegraph which detailed their video game version of the waterfront.
The low-definition depiction is a far-cry from glossy architectural rendering, more closely resembling a giant Lego set than reality but this hasn't put off millions of gamers from entering its simplistic worlds to flex their own creative muscles.
Lead artist David Keningale commented: "We have a new 'texture pack' which is architecturally inspired and we wanted something modern to show people what it is capable of.
"We thought there was nothing better than the new V&A building to show that. The new city pack will allow users to build more modern and high resolution buildings."
The
bricks and mortar V&A
will begin construction this August but it is the Minecraft version which may do more to inspire a new generation of budding architects.
Back to February 2014