University of Strathclyde Physics School extension under way
February 20 2014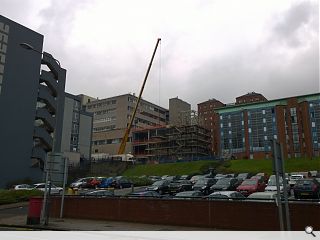 The University of Strathclyde is in the midst of delivering an £4.2m refurbishment and extension of its John Anderson Building to provide improved facilities for its Department of Physics.
Designed by Hypostyle and delivered by Balfour Beatty the extension will provide 5,113sq/m of accommodation over three floors on a constrained steeply-sloping site to provide new laboratory and office space.
A feature corner stair will provide access to a roof level car park and a single storey plant room to the rear takes advantage of changes in site level to remain obscured from Richmond Street.
Clad in anodised aluminium panels with 'bronze' effect random panels the extension will rise from a base black basalt tiles.
The work forms part of an estates strategy which includes
refurbishment of the nearby Stenhouse Building
.
Construction work is scheduled to complete by the end of the year.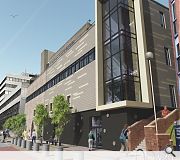 The work forms part of a wider master plan for Strthclyde's city centre campus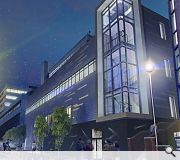 Upgraded landscaping will be incorporated around the build
Back to February 2014