Portobello High School to move on site this autumn
February 4 2014
Edinburgh City Council is to press ahead with a redevelopment of Portobello High School this September following months of wrangling over the contentious use of
common good land at Portobello Park
.
The £41.5m scheme has been designed by JM Architects and parsons Brinkerhoff structural engineers and will open its doors to pupils in August 2016.
Accommodating 1,400 pupils the school will provide a four lane, 25m pool and present its public face to Milton Road across a landscaped square. These elevations will be finished in cast concrete blocks and acrylic render.
Taking the form of a series of interconnecting blocks the school takes advantage of differences in level to hide a lower floor beneath the level of Milton Road, keeping the building to the same height as neighbouring villas.
Following completion the existing Portobello High will be demolished, with the majority of the site converted to open space – minus 0.6 hectares which will be allocated to St John's RC Primary.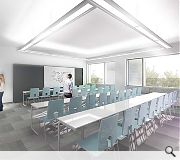 A typical classroom in the new school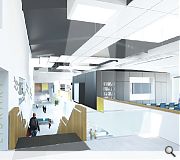 The new school will house an expanded library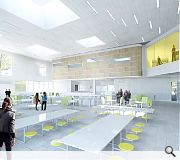 The school is laid out as a village street with a central spine and subject areas branching off to north and south
Back to February 2014