Royal Edinburgh Hospital master plan submitted
February 4 2014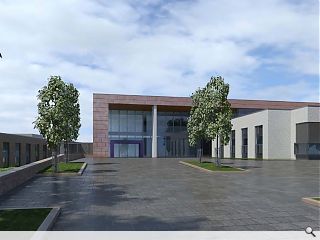 Planning permission for the first phase of NHS Lothian's
ten year Royal Edinburgh campus master plan
is being sought, including delivery of a 185 bed mental health and brain injury unit.
This will take the form of three brick and render pavilions connected by glazed elements.
Prepared by Archial and ERZ the scheme will redevelop the
existing Morningside campus
, improving access and landscaping whilst providing space for new mental health, learning disability and rehabilitation facilities.
In their design statement Archial Norr said: "The approach pavilion is finished in render to act as a contrast to the warm materials being used for the other elements of the design, and as a focus point for the entrance approach to the building. This colour and contrast approach, viewed through the welcoming and natural landscape, gives the entrance a strong, obvious, and appropriately scaled front door.
"Each pavilion has been developed to be unique in its appearance from each other, with different views into and from the various wards and support spaces, while still using the same simple palette of warm materials. Each material has been used to create focus points within the elevations, or to maximise the views from the building to the landscape beyond."
At the heart of the scheme a tree-lined boulevard will be laid to provide vehicular and pedestrian access and connecting to new walking routes along a new area of parkland to the south, which will be cleared of existing buildings.
Phase one work is scheduled to complete in 2017 with the full master plan not being implemented prior to 2024.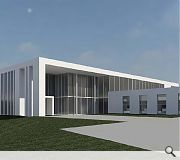 A series of landscaped courtyards will provide therapeutic space for patients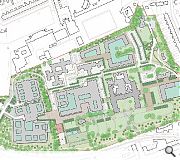 The full master plan will rationalise buildings and open space on the existing estate
Back to February 2014