City of Edinburgh Council approve Caltongate master plan
January 29 2014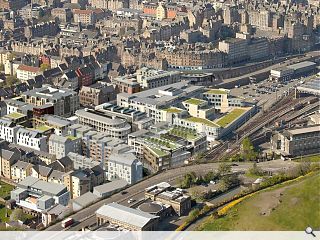 Planners at The City of Edinburgh Council have today agreed to grant permission for a
£150m redevelopment of the Caltongate
, at the heart of the historic Old Town.
Developer Artisan and Allan Murray Architects intend to transform a five acre tract of derelict land to the west of Waverley Station into a new mixed use quarter comprising a mix of leisure, retail, residential and commercial uses and a civic square.
Lukas Nakos, Artisan's managing director said: "Today marks a significant milestone in the evolution of one of the most challenging city centre developments anywhere in the UK, and we now have the opportunity to deliver on our promises made when we first started this process, more than two years ago.
"Our proposals are the result of an 18-month consultation process bringing together local people, businesses, civic partners and heritage bodies. This has led to many facets of the area's unique Old Town setting being retained to preserve the character of the development, including the retention of the Canongate Venture building and the façade of the Old Sailor's Ark."
The news hasn't been welcomed by everyone however, with some claiming that the proposed scheme poses a threat to the UNESCO World Heritage status of the Old Town. This has prompted some concessions to be made in the latest plan, including preservation ov views to Calton Hill from the Royal Mile and opening up the Jeffrey Street arches as studio space.
Redevelopment of the site was first approved way back in 2006 when developer
Mountgrange proposed a £180 master plan for the site
, before later going bust in the recession.
Work on the scheme could commence as early as this summer.
Back to January 2014