Three decade long refurbishment of Newcastle's Merchant's House draws to a close
January 21 2014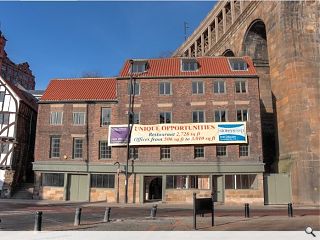 Work to restore an historic Merchant's House on Newcastle's quayside is drawing to a close following the transformation of the buildings ground floor, which re-opens as a restaurant later this week.
The Buttress constitutes an amalgam of structures dating back to the 13th century, presenting a unified frontage of 19th century stone and wood warehouse/ shop frontages with a plain brick exterior rising above.
One of Simpson & Brown's oldest projects, the practice first became involved with the grade 1 listed building back in the early 1980's, the scheme entailed the reconstruction of three rear wings, re-roofing and retention of its highly decorative 17th century plasterwork.
A conservation plan for the property noted: "It is a rare example of an early fine merchant's house during a time when Newcastle was a major centre for shipping and trade. The design and decoration of the house demonstrate the strong trade links between Newcastle and Northern Europe, through the fine quality German design and execution of the interior plasterwork."
Upper levels of the property were converted into office accommodation back in 2010 with the last and final phase, opening of a restaurant over the lower floors, set to take place on 24 January.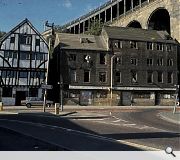 In 1983 the property was in a parlous condition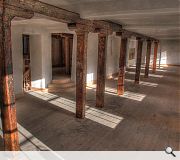 Interior spaces have been stripped back to their original form
Back to January 2014