Rural Design complete zinc-clad Rhue home
January 17 2014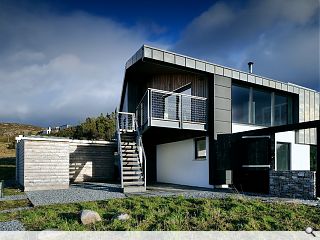 Skye based Rural Design have completed their latest family home in the Highlands, a zinc-clad house in Rhue, Ullapool, which enjoys open views to Loch Broom and the Summer Isles.
Inspired by the low-pitch agricultural sheds common to the area the scheme adopts a low profile as seen from the road but opens up to a two storey façade on the loch facing aspect. This approach, dictated by planners, sees an 'upside down' internal arrangement adopted with main living spaces situated on the upper level.
A number of external elements, namely a wall, garage and woodshed, have been strategically positioned to provide sheltered sun-traps for the exposed site whilst a whole house ventilation system, solar panels, insulation and high specification windows contribute to low energy performance.
Commenting on the scheme Rural director Alan Dickson said: "The plan of the house is a parallelogram, which arrived quite naturally during the design process. This shape allowed multiple spaces to get a view of the sea, and also allows the first floor terrace to be sheltered by the overhanging cantilevered roof.
"It also creates an interesting "prow" shape directed towards the lighthouse, the summer isles and the sunsets beyond. We liked to call that the" Titanic moment" as we worked on the design."
Back to January 2014