Edinburgh University press ahead with St Cecilia's Hall renovation
January 8 2014
Edinburgh University has submitted plans to remodel St Cecilia's Hall, Cowgate, to provide a 40 per cent increase in gallery space and improved acoustics, clearing the way for it to become a new Museum of Musical Instruments.
Designed by Page\Park the £6.3m project is set to move on site this autumn and will entail creation of a new harpsichord styled entrance to entice visitors off the Royal Mile.
Those who do will be rewarded by an internationally important collection of keyboard and plucked string instruments which are being brought together on one site for the first time.
More than just a museum however the internal works will also restore the oval plan of the main concert hall, enabling musicians to put the instruments through their paces in a concert setting.
Externally a number of incongruous 1960s extensions will be demolished to make way for a number of new additions
Jacky MacBeath, head of museums at Edinburgh University, said: "At the moment, it's a building for people in the know. We want to change that completely."
Originally built in 1763 St Cecilia's Hall is the second oldest concert hall in the UK.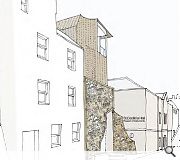 A harpsichord chaped entrance has been designed in collaboration with Edinburgh College of Art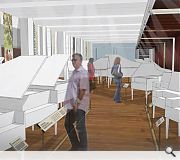 The new facility will allow the University to extend opening hours and bolster visitor numbers
Back to January 2014