Sutherland Hussey give fresh lease of life to former whisky bond
January 8 2014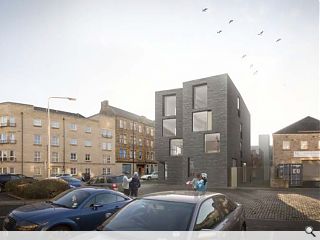 Places for People have submitted plans
drawn up by Sutherland Hussey Architects
for the conversion of a C-listed former whisky bond into 11 flats together with a further 14 homes in a new build adjacent block.
The industrial site is located off Assembly Street in the Leith conservation area and has been conceived as a 'courtyard accessed' development accessed by gate from the main road.
A new build element clad in dark brick is aligned with the gable of the whisky bond in order to create a new street frontage whilst harmonising with the blackened flint used in the bond.
Warmer brass alloy panels are also proposed for the Assembly Street frontage.
In their design statement Sutherland Hussey state: "By retaining the listed bond building the remainder of the site can be developed to create a 'courtyard accessed' residential typology which has been positively developed in several locations in the Leith Conservation Area.
"This is an important mechanism for laying out the site as there is very little actual accessible street frontage with all access coming from the North West corner. The Western boundary of the Northern Light site is partially built from stone and partially from brick and would create a high quality perimeter wall to a proposed courtyard.
"Due to proximities and rights of access the location of possible new-build accommodation is limited to a zone along the eastern boundary. Here it is intended to provide a strip of soft landscaped garden to act as a natural buffer between the proposal and the existing housing opposite."
A public consultation on the plans runs until 24 January.
A contemporary aesthetic has been specified for the new build element in line with current guidance from Historic Scotland
Back to January 2014