BAE submit preliminary plans for Govan and Scotstoun shipyards
January 6 2014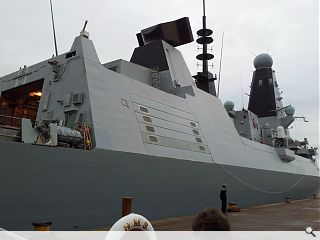 Defence giant BAE has submitted preliminary plans for the redevelopment of its Govan and Scotstoun shipyards, pending a final decision on the future consolidation of its warship business.
Two separate notices have been filed for the yards; indicating plans to either invest in both sites in tandem or pull the plug on Govan to focus exclusively on Scotstoun.
The restructuring has been necessitated by the looming completion of a huge contract to deliver two aircraft carriers for the Royal Navy, with order books beyond unable to justify the present workforce.
In making its decision BAE is weighing up whether to invest modest sums in both yards or a significant amount at Scotstoun to serve as a unified fabrication base following an MoD decision on where to build a new fleet of Type 26 frigates later in the year.
This latter option would see existing shipbuilding and maintenance facilities upgraded together with the addition of a new covered dry dock, transfer quay, offices and fabrication facilities.
A BAE spokeswoman said: "We are undertaking initial exploratory work to assess potential options to invest in these manufacturing facilities.
"Our aim is to create a world-class warship design, build and integration capability, ensuring that we deliver value for money to the Ministry of Defence and a modern and safe workplace for staff."
Govan's future is secure until 2017 at the earliest, owing to honour current orders, with
plans already lodged to turn listed buildings on the site into new housing
.
Back to January 2014