Issue 16 of Urban Realm kick-starts 2014
January 6 2014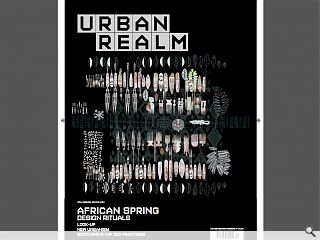 Urban Realm has kicked off the New Year with publication of the latest edition of the magazine, an issue which looks at the current state of play in the architectural profession with profiles of the key practices which helped shape 2013 in their image.
One theme that emerged from our review was the increasingly successful rejuvenation of historic buildings, prompting us to take a closer look at two recent examples.
The first of these, Malcolm Fraser's Edinburgh Centre for Carbon Innovation, has just received the first BREEAM 'Outstanding' rating for a UK refurbishment project and Morgan McDonald's Charlotte Square is carried out with no less aplomb. Both are reviewed here.
Their work gives hope to the likes of Springburn where Collective Architecture's Chris Stewart documents an erosion of history and we also take a peek at a new book, 'Look-Up Glasgow', which lifts the lid on some forgotten city centre details.
Looking ahead to next year we investigate one of the greatest Commonwealth Games events that will never be, Aerostatic Bloomage. Conceived as a means to showcase Glasgow as a cultural hub it was unceremoniously ditched. We find out why and ask if it might one day be resurrected.
Casting our minds even further ahead we speak with the team at Lateral North who harbour a grandiose vision for Scotland's northern hinterland. Seemingly far-fetched it nevertheless provides food for thought for today's policy makers.
Further from home Paul Stallan returns from a trip to Nigeria bringing with him news of an exciting new cultural development in Lagos that proves opportunities are still there to be found for those prepared to look.
To secure your copy simply
register your details online
or contact Kasia Uliasz direct via kasia@urbanrealm.com.
Here's to a constructive New Year.
Back to January 2014