Revamped Haymarket Station unveiled
December 20 2013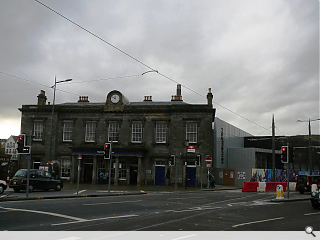 A £25m
redevelopment of Edinburgh's Haymarket Station
, Scotland's fourth busiest, has been officially opened today by Network Rail.
The upgraded station has seen its public spaces enlarged ten-fold whilst a new entrance has been created to provide interchange with a neighbouring tram stop.
A new build steel, glass and transparent plastic structure has also been built around the historic station, linking all platforms with an expanded pedestrian footbridge whilst clearing the way for demolition of the existing bridge by the spring.
The work has been necessitated by projections predicting that passenger numbers could climb from 4m per year today to 10m by 2030.
Alex Sharkey, Network Rail area director for Scotland East, added: "Haymarket station is already one of the busiest in Scotland and passenger numbers are set to continue to grow in the years ahead. This new building will ensure the railway is able to provide first-class facilities for those passengers and the new, modern station will also complement the wider redevelopment of the city's west end."
The project formed part of the Scottish Government's
ongoing Edinburgh-Glasgow Improvement Programme
.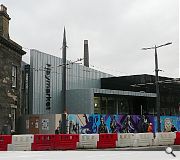 Construction work on the revamped station began back in April 2012
Back to December 2013