St Peter's Seminary secures Heritage Lottery funding
December 6 2013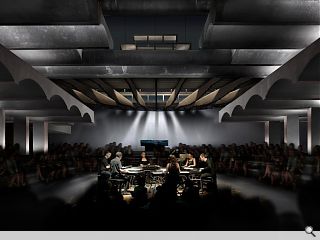 Efforts to breathe new life into the crumbling
St Peter's Seminary
have been given a lifeline with the award of a £566k Heritage Lottery Fund grant and the possibility of a further £3m by 2015.
The cash will contribute toward a £7.5m bid by arts body NVA and Avanti Architects to revitalise the modernist structure but is dependent on the organisation raising the shortfall itself over the course of 2014.
Should this prove successful the Gillespie, Kidd and Coia designed structures will be consolidated and access improved by a series of new pathways, opening up a new learning pavilion, subject to an architectural competition, which will play host to a variety of performances and activities.
45 hectares of woodland which surrounds the buildings will also be spruced up by ERZ as part of efforts to attract visitors and engage with locals.
John Allan of Avanti Architects said: "HLF's support provides the vital jigsaw piece in our project to rescue St Peter's Seminary from oblivion and make it a unique cultural and educational resource for the people of Scotland and beyond. With Planning and Listed Building Consent also secured, this grant – together with earlier pledges from Historic Scotland and private benefactors – will now enable the team to progress its work to the next stage."
Back to December 2013