Austin-Smith:Lord unveil Irvine public realm work
December 3 2013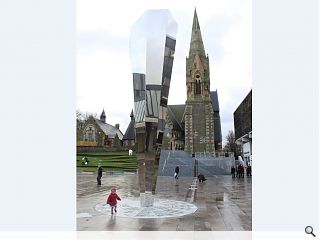 A £2.2m public realm project in Irvine, Ayrshire, has been unveiled by Austin-Smith:Lord, concluding an 18 month build programme around the
recently revitalised Bridgegate House
.
Incorporating natural stone public realm, artworks and streetscape enhancements the scheme is intended to revitalise the historic heart of the town whilst providing a flexible outdoor space for seasonal markets
Centrepiece of this work is a 9m high Trinity Mirror sculpture to reflect the nearby Trinity Church, a piece of public art which also reveals inscriptions on an anamorphic projection around its base and an accompanying timeline depicts key events from the towns past.
Other highlights include a set of bells which once hung in Trinity Church, landform artworks and programmable feature lighting to enhance the after-hours streetscape.
Siobhan Vernon, Austin-Smith:Lord's lead landscape architect on the project said; "The completed scheme is faithful to our original concepts in the design competition. It redefines Bridgegate as an urban piazza, opening up connections to the landmark Trinity Church and bringing together the new and historic aspects of Irvine town centre.
The integration of public art and feature lighting into the new streetscape enriches the space and celebrates the town."
Funded by North Ayrshire Council and Irvine Bay regeneration Company the scheme was delivered by Land Engineering.
Photography by McAteer.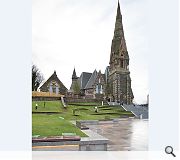 It is hoped that the spruce-up will increase footfall to the benefit of local retailers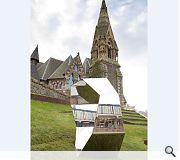 The Council is placing renewed emphasis on Irvine's historic core
Back to December 2013