McAslan's Surgeons' Hall revamp secures £2.7m lottery grant
December 2 2013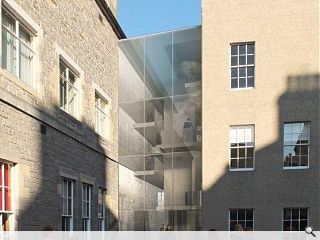 The Royal College of Surgeons of Edinburgh have been named as recipients of a £2.7m grant from the Heritage Lottery Fund toward an extension and redevelopment of Scotland's oldest medical museum.
Dubbed The Lister project it will entail creation of new displays and galleries by Campbell & Co, doubling the number of items on display and introducing audiovisual and interactive elements. A number of contemporary additions, such as a new glass atrium, will also be built to designs by John McAslan & Partners.
Royal College director of heritage Chris Henry commented: "The Museum collections are unique in their content and also in that they are displayed in the building originally built to house them nearly 200 years ago. The challenge of the Lister project has been to produce a plan which will enhance the public space within the museum and ensure accessibility across all areas, whilst maintaining the integrity of the William Playfair-designed building in which the Museum is primarily housed. We are proud of being the oldest medical museum in Scotland and of our important role in the work of the UK's oldest surgical Royal College."
The William Playfair designed Surgeon's Hall houses a collection of surgical pathology artefacts; including anatomical specimens, surgical instruments and curiosities such as a pocket book crafted from the skin of murderer William Burke and has been open to the public since 1832.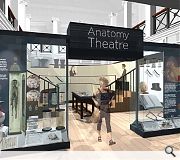 A letter from Sir Arthur Conan Doyle crediting Royal College of Surgeons of Edinburgh Fellow, Dr Joseph Bell, as the main inspiration for the character of Sherlock Holmes is one of the star exhibits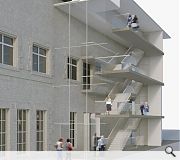 A new link building will conjoin two separate elements of the present museum
Back to December 2013