Safedem complete demolition of Roystonhill tower block
December 2 2013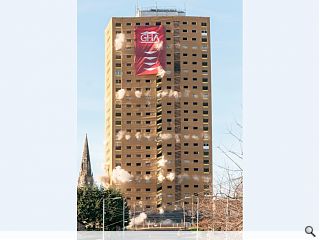 Safedem have successfully completed the demolition of a
25 storey block of flats in the Roystonhill area of Glasgow
as part of a new master plan for the area.
Glasgow Housing Association is in process of demolishing another two blocks on the estate as part of efforts to begin work on the construction of 100 new homes next summer.
The decision to demolish was taken owing to low demand and high running costs of the hi-rise properties, which have now been reduced to 10,000 tonnes of rubble which will be re-used as roads aggregate.
Alex McGuire, director of property for Wheatley Group, GHA's parent company, said: "This is one part of a new beginning for the north of Glasgow. These flats were home to hundreds of families since 1968 - but their time had come to an end. Exciting regeneration plans will see the area transformed with hundreds of new homes being built."
A neighbouring tower at 40 Rosemount Street will be brought down by 2015, paving the way for the delivery of the first new homes on the site by early 2016.
Images by Scottish photography Productions.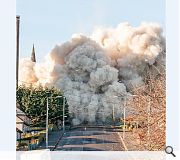 420 tenants were decanted to make way for 100 new properties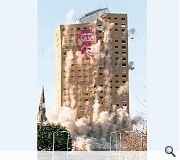 The block was demolished at 11:55 on Sunday
Back to December 2013