Stallan-Brand launch Merchant City student housing consultation
November 26 2013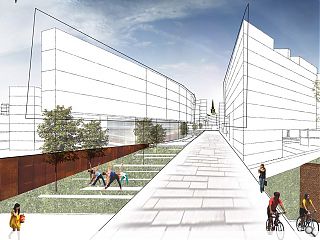 Merchant City Properties have dusted off plans first aired in 2006 to build a £70m student residential scheme near Glasgow's High Street Station with a revised masterplan prepared by Stallan-Brand.
Seventeen Acres, named after the parcel of land which once hosted the medieval University of Glasgow before making way for a railway goods yard, will provide accommodation for 1,200 students in addition to a new cultural and outdoor space, multi-purpose venue and 15 shop units.
Set within a landscaped park, which takes its inspiration from an historic orchard and botanic gardens, the scheme will reopen access to the long-hidden Molendinar Burn.
Commenting on the scheme Paul Stallan said: "… our focus, working with the City, has been to look at the historic High Street, the critical connections to the Merchant City and new routes that link the Cathedral area with both the Gallowgate and Glasgow Green. In design terms our proposal seeks to extend the urban structure and life of the Merchant City further east beyond Glasgow's historic High Street. The 17 Acres project is about making a piece of city with active streets, connecting thoroughfares and new public spaces."
Kevin Maguire, managing director of Merchant City Properties, added: "Seventeen Acres will provide quality student accommodation within easy reach of the city's universities and colleges and will transform an area that is currently used as a car park, bringing to life elements of its past through the development.
"This will include landscaping and planting inspired by an original inventory of the old university's 'College Gardens' which stood on part of this location and inspired the name Seventeen Acres."
A pre-planning application consultation will be held tomorrow at the Merchant Square courtyard, Albion Street.
Back to November 2013