UK's first floating wind farm wins site approval
November 26 2013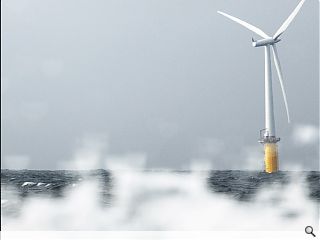 The Crown Estate has granted a lease to Statoil for the UK's first floating wind farm, the latest phase of its Hywinds project, pending final go-ahead from the Scottish Government.
This clears the way for a total of five, 6MW floating turbines will be erected at Buchan Deep, a 100m depression situated 20km off the coast of Peterhead.
Generating an estimated 30MW it would be Europe's largest floating wind farm and follows the success of a trial turbine in Norway, built in 2009.
The technology enables installation of turbines in deep water which would otherwise be inaccessible and at a lower cost than conventional turbines.
Ultimately it is hoped that arrays of such structures can be built in UK waters to tap into the rich wind resources to be found there.
Statoil's senior vice president for renewable energy, Siri Espedal Kindem, said: "(Hywind) represents a new step in the development towards a future floating commercial scale park.
"We will continue to mature the Hywind Scotland Pilot Park towards a final investment decision, by conducting marine surveys and concept studies in order to demonstrate technical and commercial feasibility for future offshore floating wind."
Back to November 2013