Barrhill Memorial Hall extension secures planning permission
November 22 2013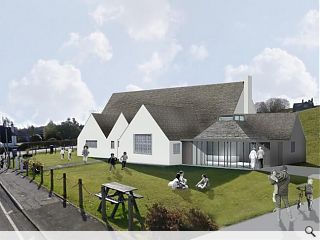 Anderson Bell Christie has been awarded planning permission for the alteration and refurbishment of Barrhill Memorial Hall, South Ayrshire.
The building currently acts as a focal point for the community and will be remodelled to provide greater flexibility after securing lottery funding. This will see creation of a new entrance space and improved facilities such as an extendable stage, kitchens, meeting rooms, community space and a reading room in addition to the main hall.
In their design statement the architects observed that the: "The building sits at the main junction in the village and proposed alterations to the existing structure are mindful of its current scale, providing additions that sit well in the locale and complement the Memorial Hall and the wider context.
"A clear and widely agreed plan of action for the refurbishment and development of the Memorial Hall has been discussed by the community in order for to enable these plans to be implemented."
Back to November 2013