Tate Britain refurbishment puts engineer in a positive light
November 22 2013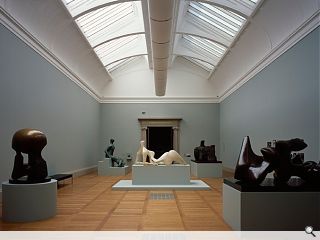 Engineering firm Max Fordham has showcased its work behind the scenes as services consultant at Caruso St John Architects recently unveiled Tate Britain refurbishment, London.
The £45m project saw the oldest part of the Grade II* listed Millbank building overhauled together with the refurbishment of ten galleries and re-opened main entrance, rotunda balcony and reconfigured lower level.
Key to this work was the installation of a custom daylighting scheme for each gallery to provide richer qualities of light than that provided by artificial sources. This took the form of a series of rooftop tubes, colloquially described as a 'double-glazed sandwich of drinking straws', to funnel sunlight past a fixed shading system to deliver as much indirect, diffuse light as possible.
A happy corollary to this work was the reduced lighting load cut electricity bills by 50 per cent whilst also improving the visitor experience. Though the technique necessitated some complex calculations behind the scenes to marry light transmission with hourly climate data, necessary to predict the likely pattern of daylight throughout the year.
Colin Darlington, senior partner at Max Fordham commented: "What visitors notice is whether the space looks and feels great, not how this effect has been achieved. I consider it a success when people don't notice our hard work and just see beautifully displayed art."

Photography by Helen Binet
Back to November 2013