Aberdeen Art Gallery plans recommended for approval
November 25 2013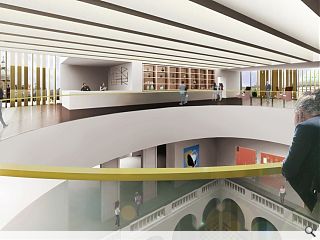 Plans to redevelop and extend
Aberdeen Art Gallery
look set to be approved on Thursday after they were recommended for approval by planners.
This would see the existing hodgepodge of unsympathetic alterations stripped back to allow the reinstatement of plaster vaulting, addition of a new gallery to the rear and a signature staircase. External works would include the creation of an extra storey of accommodation with its own external roof terrace.
The work has been necessitated by problems stemming from water ingress and outmoded services together with an acknowledgement that the present facilities no longer meet the demands of the collection.
Head of planning and sustainable development Dr Margaret Bochel said: "It is acknowledged that the new extensions contrast with the Renaissance-style Art Gallery buildings in terms of design and use of materials. However, this contemporary approach is clearly well considered and makes a positive contribution to the A-listed building in itself and to the wider conservation area. It is considered that the proposed new extensions complement the existing building and add a new modern dimension with a high design standard. It is clear to see how the building has evolved over its almost 130 year history and the new extensions would continue this.
"The proposed extensions are considered to make a positive contribution to the immediate area and fit well in the context of the building in terms of size, scale, form, massing and use of materials – all of which are considered to complement and enhance the existing building."
Period features such as a central sculpture court, black and white marble staircase, octagonal war memorial and Cowdray Hall would all be refurbished under the plans.
Back to November 2013