Tog Studio invites live-build Tiree workshop applications
November 19 2013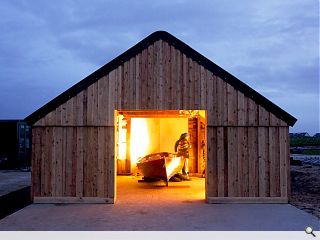 Tog Studio is inviting applications from participants to join their on-site team next year to help build the second phase of
The Noust Boathouse
on the Isle of Tiree.
Taking place between the between the 7 and 14 June the event is open to anyone irrespective of experience and will entail working within a diverse multi-disciplinary team to assist in the delivery of a new workshop for the Tiree maritime Trust.
To accompany this recruitment drive a number of presentations will take place, kicking off at the Mackintosh School of Architecture tomorrow before moving onto the University of Strathclyde department of civil and environmental engineering on the 27th; the Association of Dundee Architecture Students on the 28th and finally an EUSAS / ESALA panel discussion on the 29th.
Applications must be received no later than 17 January and a number of scholarship places are available.
Back to November 2013