Aberdeen City Gardens team win Moscow park commission
November 18 2013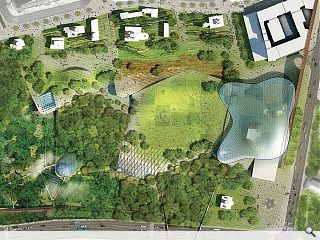 Moscow is set to go where Aberdeen feared to tread with the appointment of the same core team behind the ill-fated Aberdeen City Gardens project to undertake a similar scheme in the Russian capital.
Buro Happold's Nordic office secured the commission to build a subterranean cultural centre and gardens on the site of Zaryade Park as part of a team which also includes Diller Scofidio + Renfro and Hargreaves Associates.
It will be the first public park to be built in the city for half a century and incorporates a new museum, gallery, restaurant, retail and even an 'ice cave'.
This will all be based on a wild urbanism concept which seeks to marry natural and urban environments through the use of historic cobblestone paving with lush gardens.
Senior Buro Happold engineer Paul Roberts commented, "We are thrilled to be part of the winning international team chosen to work on such a unique project. Our team represents six nations from around the world aiming to bring a global perspective and vast experience to this important project. One of the engineering challenges on the project is the large grid shell designed to accommodate the new Moscow Philharmonic Hall, a key attraction in the park.
"The roof canopy has emerged through a consideration of the integrated environment and energy ideals, consistent with the architect's wild urbanism vision and concept."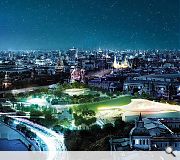 Zaryadye Park will knit some of Moscow's most famous monuments into the historic street pattern
Back to November 2013