Foster's Hydro takes top honours at annual GIA Awards
November 19 2013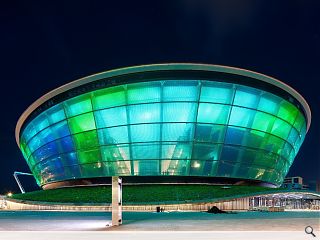 Foster + partners newly completed Hydro Arena has received the first Supreme Award to be handed out by the Glasgow Institute of Architects in three years.
The result was just one of 12 awards announced at the body's annual member's dinner with other notable winners including John Gilbert Architects, who picked up an award for sustainability and the Wood for Good award as well as a commendation in the residential category.
Glasgow City Council's project management & design team in development and regeneration services meanwhile walked away with two Awards in the conservation and education categories for Notre Dame Primary and Elie Street Early Years Centre in Dowanhill, Glasgow.
GIA Design Awards 2013 results
SUPREME AWARD:
The SSE Hydro, SECC, Glasgow Foster + Partners
SMALL WORKS: (These projects have a contract value under £250,000)
AWARD Westbourne Drive, Bearsden - NORD Architecture
COMMENDATION De Anderen Studios, Glasgow - Baxendale
COMMENDATION The Noust Boathouse, Scarinish, Tiree - Tog Studio
EDUCATION:
AWARD Eastwood High School, East Renfrewshire - BDP
AWARD Notre Dame Primary and Elie Street Early Years Centre, Glasgow - GCC
HEALTHCARE:
COMMENDATION The William Quarrier Scottish Epilepsy Centre, Govan - Anderson Bell Christie
LEISURE/COMMERCIAL/ARTS/INDUSTRIAL/OFFICE CATEGORY:
AWARD Beacon Arts Centre, Greenock –LDN
AWARD Mareel Cinema and Music Venue, Lerwick – Gareth Hoskins
AWARD Scottish Water – The Bridge, Stepps – Reiach & Hall
AWARD South Block Creative Industries Hub, Glasgow - Nord
AWARD SSE Hydro, Glasgow - Foster and Partners
COMMENDATION Edinburgh Drinking Water Project, Glencorse - BDP
COMMENDATION The Preshal Trust, Linthouse – Elder & Cannon
CONSERVATION:
AWARD Calman Cancer Support Centre, Gartnavel (former Gartnavel Royal -
Austin-Smith:Lord
AWARD Notre Dame Primary and Elie Street Early Years Centre, Glasgow - GCC
RESIDENTIAL:
AWARD North Gardner Street, Glasgow - cameronwebster architects
AWARD Taigh Sonas, Kippford – Simon Winstanley
COMMENDATION East Whins Ecovillage, Findhorn - John Gilbert
COMMENDATION Garscube Road Housing, Maryhill - Collective
COMMENDATION House on Loch Awe, Argyll – McInnes Gardner
COMMENDATION Park Square Regeneration, Campbeltown -Coltart Earley
COMMENDATION Student Housing, 261 West Princes Street, Glasgow -Elder and Cannon
SMALL PRACTICE PORTFOLIO - COMMENDATION ataSTUDIO
WOOD FOR GOOD AWARD
East Whins Ecovillage, Findhorn - John Gilbert Architects
SUSTAINABILITY AWARD
East Whins Ecovillage, Findhorn John Gilbert Architects
SUSTAINABILITY COMMENDATION
Edinburgh Drinking Water Project, Glencorse BDP
JON-MARC CREANEY PHOTOGRAPHY COMPETITION
WINNER Andrew McNeish
COMMENDATION Toh Yi Hong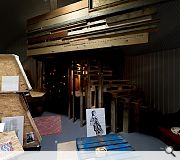 Baxendale earned a commendation in the small works category for De Anderen Studios. Photo by Tom Manley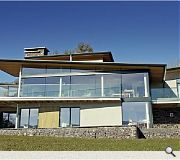 This house at loch Awe earned McInnes Gardner architects a commendation
Back to November 2013