Campaigners call for Duke of Wellington traffic cone to be listed
November 13 2013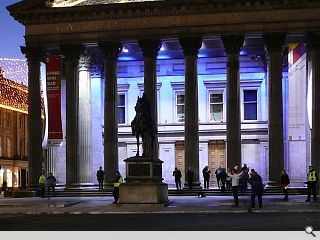 A long-running game of cat and mouse between Glasgow City Council and those seeking to have a traffic cone permanently placed on the head of a Duke of Wellington statue has reached a head with protest calling for the ensemble to be listed.
Police were involved in a stand-off with 150 pro-cone campaigners at the foot of the Queen Street landmark last night, celebrating a council U-turn over moves to raise the statues plinth to prevent people from scaling the monument to place its trademark cone.
Commenting on the campaign Urban Realm editor John Glenday said: "It is ironic that a statue situated on the very porch of the Gallery of Modern Art, itself a temple to subversive modern Glasgow, should fall prey to the city council's unique brand of puritanical conservatism.
"Glasgow is not a museum and whilst tastes may differ as to the aesthetic merits of marrying road traffic paraphernalia to the head of a 19th century politician, a significant proportion of Glaswegians have come to adopt the coned figure as one of their own – often those who otherwise feel a lack of empathy toward the cold and distant historic figurines which invisibly line our streets and public spaces.
"That people wish to take ownership of one such monument is an act of civic engagement which should be encouraged, not obstructed. It gives the monument a relevance to today's city which it otherwise lacks and adds a ready-made point of interest on the city's tourist trail."
Back to November 2013