Lego Brick City exhibition opens at Paisley Museum
November 8 2013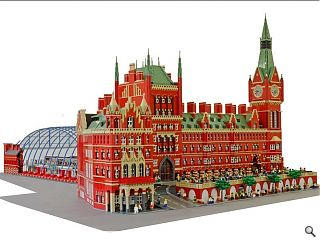 An exhibition of 72 famous buildings, each painstakingly recreated in Lego by artist Warren Elsmore, has opened at Paisley Museum.
Elsmore has spent the past two years labouring over his plastic recreations of famous sights; from St Pancras Station to the Olympic Park and Forth Bridge, to feature in his book Brick City.
The largest of these is St Pancras Station which took an incredible 150,000 individual bricks to realise, all of which were adapted from standard ranges.
Speaking to the BBC Elsmore said: "I started in the same way as everyone else, when I was three or four, getting Lego sets for Christmas and building them.
"I put it aside for a bit when I was a teenager but I came back to it, like a lot of adults did and I've been building commercially for the past five years."
The exhibition runs until 16 February.
Back to November 2013