Construction output rises 1.7% in the third quarter
November 8 2013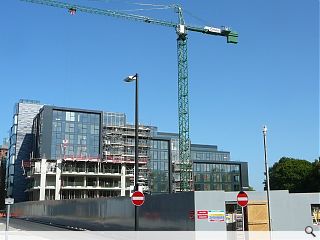 Construction output in the UK rose by 1.7 per cent over the third quarter, a slight dip from the 1.9 per cent registered in the second quarter and a 0.9 per cent month-on-month fall from September, according to the latest ONS figures.
The figures were bolstered by 3.1 per cent growth in new work over the period, more than offsetting a 0.6 per cent decline in repair and maintenance contracts but not enough to hit the projected 2.5 per cent growth.
In a statement the ONS said: "The Preliminary Estimate of Gross Domestic Product (GDP) published on 25 October 2013 contained a forecast for quarterly construction output of 2.5%. This estimate has been revised within this release based on updated survey responses and is now estimated to be 1.7%, a downward revision of 0.8 percentage points. This downward revision has no effect on the preliminary estimate of GDP growth to 1 decimal place."
Commenting on the figures Brian McQuade, managing director of Kier Construction in Scotland, said: "These figures reflect what we are experiencing in our own business where we have been securing new construction contracts in recent months. The overall UK picture shows a steady increase, and there is a continued but cautious optimism within the whole construction industry. The news today is an important step in the right direction for the construction industry and for our Scottish economy too."
Construction currently accounts for 6.3% of GDP.
Back to November 2013