Aberdeen to consider Broadford Works funding request
November 11 2013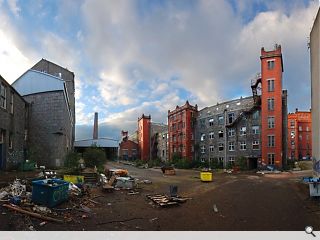 Aberdeen City Council is to consider a request for £15k of funding from the Scottish Historic Buildings Trust to conduct an options appraisal for Scotland's oldest iron framed mill.
Grey Mill at Broadford Works is considered to be the most important building on the former industrial complex but is now one of a number of at risk A-listed buildings in the site.
Vacant since 2004 it is hoped that the building can be restored following completion of a survey and identification of possible end use, users and designs.
Funding for the work has already been secured to the tune of £10k from the Architectural Heritage Fund; £7.5k from Historic Scotland; £7.5k from Aberdeen City Heritage Trust and £7.5k from the site owner, First Construction Ltd.
A
2011 application to turn the area into a mixed-use extension of the city centre
was rejected by the council.
Back to November 2013