Aberdeen mosque set for spring start
October 14 2013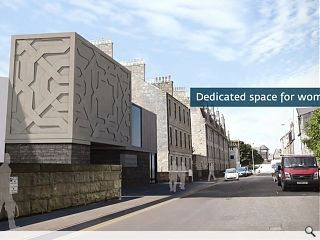 A new mosque on Aberdeen's Nelson Street, to serve the estimated 4,000 Muslims resident within the city and surrounding shire, is to move on site next March.
The £1m
Makespace Architects designed scheme
will entail construction of a two storey extension to the front of an existing warehouse and will accommodate up to 800 people.
In a statement Makespace Architects said: "Our design approach is based on our vision of Britain's Muslim communities as progressive and creative members of society and we want the building to reflect this spirit.
"In this way, the new Aberdeen mosque speaks of being fully Scottish, fully British, and fully Muslim all at the same time. It is a new architectural approach that combines and balances local architectural style and tradition with that from the rich cultural heritage of Islam. In this way we hope the new mosque represents and reflects the spirit of Aberdeen's diverse communities, and serves as symbol around which understanding and interaction can happen."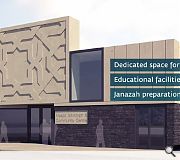 The new hall will also play host to a range of supporting community services and activities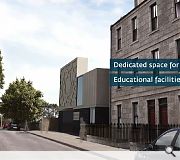 The £1m scheme is being funded through private donations
Back to October 2013