University of Glasgow completes Translational Research Centre
October 1 2013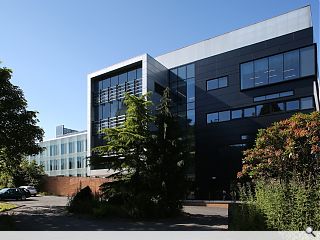 The University of Glasgow has taken occupancy of the RMJM designed Translational Research Centre following its handover by Mansell, the main contractors.
Built adjacent to the
Beatson Institute
at the Garscube Estate, Bearsden, the facility will aid in the fight against cancer by bridging the gap between laboratory research and real-world therapies.
Commissioned to attract and retain staff and students the scheme has been designed to be both functional and aesthetic and is distinguished by patterned aluminium cladding delivered by building envelope specialists Lakesmere.
This incorporates a 2 dimensional artwork created by local artist Kate Davies that digitised five pencil drawings and transferred them onto the aluminium cladding in a two-tone anodising process.
This allowed the design to be imprinted directly onto the building envelope by controlling the natural pattination of the aluminium, rather than rely on the use of paint or any other coating.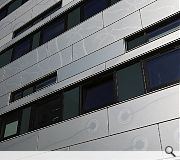 An innovative two-tone anodising process was employed to decorate the facade
Back to October 2013