Crathes Crematorium secures planning
September 11 2013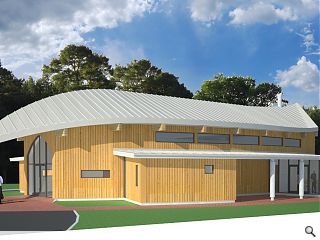 Aberdeenshire Council has approved plans to construct
Baldarroch Chapel and Crematorium
at Crathes on Deeside, the first such crematorium to be built in the area.
Designed by WCP Architects on behalf of Brian Smith Funeral Services the facility will accommodate up to 100 mourners and incorporates its own garden of remembrance.
This takes its cue from the woodland setting which is also reflected in the organic form of the contemporary timber clad chapel itself, intended as an interpretation of nature's cycle of life and death.
Embodying low carbon principles the chapel will employ its own heat exchanger off the cremator to warm the building with a bio-mass plant providing additional power as required. Emissions will also be strictly controlled and monitored by the Scottish Environmental Protection Agency.
Work is scheduled to commence on site by early 2014.
Back to September 2013