Dandara press ahead with Aberdeen's Triple Kirks development
September 6 2013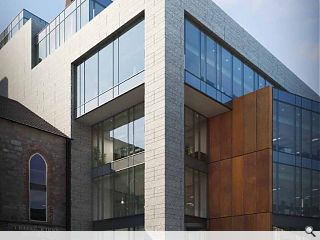 Developer Dandara has announced it is to push ahead with plans first drawn up by Stewart Milne and Halliday Fraser Munro back in 2011 to build a 72,600sq/ft office block around the
A listed Triple Kirks
before the year is out.
The Point will occupy the footprint of the former North Kirk and will revitalise the ailing structure which has lain derelict since the 1970's.
Deputy leader Marie Boulton added: "This is wonderful news. The Triple Kirks was designed by Archibald Simpson and is a shining example o2f some of Aberdeen's finest architecture. The re-development of this historic landmark is something citizens have wanted to see for many years and I am delighted Dandara plan to start work so quickly.
"It is fantastic to see so many wonderful plans for the city centre and this, combined with the redevelopment of the St Nicholas House site, will go a long way towards revitalising the city centre."
Gavin Wyley, managing director of Dandara in Aberdeen, said: "This is another significant step forward for the regeneration of Aberdeen city centre as a prime place to do business, and we are proud to have acquired one of the city's true architectural jewels.
"We plan to begin development very soon and are in a position to move forward quickly thanks to planning permission having already been granted by Aberdeen City Council."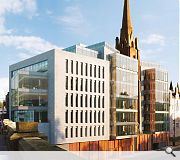 Critics have claimed the new build is disrespectful to the historic church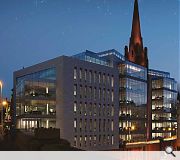 The Point is the latest in a spate of office blocks to emerge from stasis
Back to September 2013