Architecture graduate single-handedly redraws Denny town centre
September 6 2013
An architecture graduate has moved to fill the breach left by Falkirk Council over perennially delayed plans to regenerate the town, by penning a striking proposal of his own.
Pavel Kulagin, originally from St Petersburg, first heard about the town's plight after coming across a publicity campaign geared toward improving Denny's image.
This has seen demolition begin on part of a notorious 1960's development on the High Street to pave the way for a Council backed regeneration plan, designed to finally rid the High Street of its Carbuncle tag.
Aiming to go one better however Kulagin drafted his own scheme which seeks to capitalise on level changes to accommodate underground car parking and opening up sightlines to a local church from the main square.
Elsewhere the plan would accommodate a community centre, retail and outdoor event space with strong street frontages framing the public space.
Commenting on the plans to Urban Realm Kulagin said: "Some of the inspiration I got from the old maps of Denny, trying to trace the way Denny was changing from the name on the map to the town we have today."
Fearing inadequacies in the proposed new scheme
Kulagin added: "In my opinion the public space is not at the right place, it is close to the busy junction. It could be as an additional space for public, not the main square. Moreover the car park will remain occupying the large part of the town centre and it is rather irrelevant.
"Usually we are trying to make city or town centres more pedestrianised by restricting vehicle access. Here we have car parking where potentially public life could take place."
Images copyright of Pavel Kulagin, pavelkulagin@hotmail.com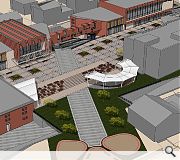 A foodstore, library and community centre form the heart of the proposals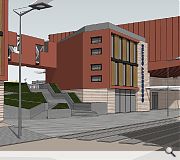 Falkirk Council have welcomed the proposals but remain wedded to their own plan
Back to September 2013