Edinburgh Airport invests in £25m terminal expansion
August 21 2013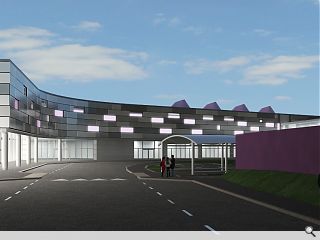 Edinburgh Airport has announced that it is to invest £25m in a 6,000m2 expansion of its main terminal and a larger security area.
Designed to speed up transit through the terminal the extension will offer travellers a choice of new shops and an airline business centre by freeing up space in the existing building.
Situated on an existing coach park the facility is being built by Archial & Balfour Beatty and will offer direct access to a new tram stop and forms part of a £150m, five year master plan for the airport.
Gordon Dewar, Edinburgh Airport chief executive, said: "Our expansion is a significant mark of our intent to transform our customers' experience of Edinburgh Airport through high-quality facilities, outstanding customer service and one of the best direct international route networks in Europe.
"This investment is the first of a number of developments that will build Edinburgh Airport's profile around the world, helping us to compete more energetically with other UK airports and those in mainland Europe."
Work on the extension is scheduled to start in October with the new security area expected to be fully operational by 2014. New retail space, including a walk-through store, will follow in 2015.
The extension is designed to enable the airport to compete with UK and continental rivals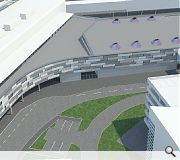 The scheme follows construction of a similar new security hall at Glasgow Airport
Back to August 2013