Councillors set to sanction Scottish Provident demolition plan
August 14 2013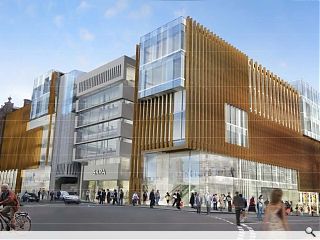 Edinburgh councillors are expected to
approve demolition of the B listed Scottish Provident building
on St Andrew Square today after concluding that dismantling and reconstructing its façade does not constitute demolition.
The controversial proposal would see the façade of the Rowand Anderson Kinimouth & Paul designed offices dismantled and rebuilt in front of a new build office block behind which has been drawn up by Gareth Hoskins and CDA.
Criticising the planned work Malcolm Fraser said: "Our heritage is our wealth; but it also, under some dumb economic models, stands in the way of our 'economic development'.
"The proposal is to take the whole building down …and then glue a few bits of the old frontage back onto a new building, to provide a façade that looks a bit like the old. Aside from the fact that such scrapbook-façadism is universally derided, trashing and traducing our heritage for no benefit, the proposal clearly is, in the technical sense, 'demolition', as Historic Scotland – the Council's principal advisors here – have clearly stated to them."
If, as expected, the plan is approved Stockland intend to commence work before the year is out for completion by late 2015.
Back to August 2013