Bennetts Associates to remodel Edinburgh Central Library
|
Send to friend
August 13 2013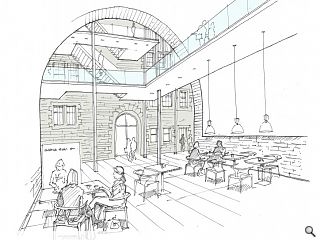 Bennetts Associates have been commissioned to undertake a feasibility study for the B listed Edinburgh Central Library.
The Edinburgh institution has been serving the public for over 100 years but in that time has accumulated a number of piecemeal agglomerations, which have devalued its historic fabric.
To remedy this Bennetts have been tasked with reconfiguring the existing facilities to improve accessibility whilst restoring the historic building to its former glory.
Though still at an early stage ideas under consideration thus far include incorporating a new cultural hub in the vaults below George IV Bridge and a rooftop restaurant.
James Nelmes, associate in the Edinburgh studio, said; "It has got to the point that to do nothing isn't an option for the library. We're excited to be working with the team there to explore the potential the wonderful building offers to create new facilities for Edinburgh's people and the many who visit each year."
Back to August 2013