Foster's Hydro Arena looking cushty ahead of grand opening
|
Send to friend
August 7 2013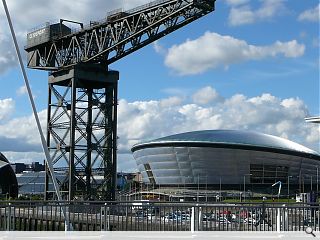 A bout of negative publicity surrounding Foster's under construction Hydro Arena in Glasgow looks to be behind it with work to envelope the eye-catching structure in giant inflatable EFTE cushions proceeding apace.
These 'foil pillows' will be illuminated by LED lights at night to create a radiant riot of colour, including projected images, when the £125m arena opens its doors to Rod Stewart fans on 30 September.
By day light will move in the opposite direction, bathing the cavernous interior in daylight.
Just three weeks ago the still skeletal structure suffered a severe fire during welding work, costing an estimated £5m of damage and jeopardising its ambitious construction schedule.
Once complete the
12,000 seat venue
will be a key venue for the 2014 Commonwealth Games.
Construction work is expected to go down to the wire to get the facility ready in time for its opening night.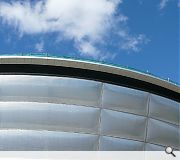 As many as 12.8m colours can be projected onto the Arena's 140 foil pillows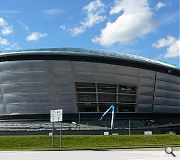 Each panel is coated in a special film, originally developed by Nasa
Back to August 2013