Inverkip power station bites the dust
July 29 2013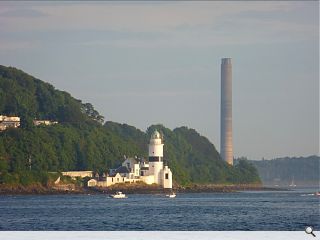 Inverkip power station's 237m stack, the third tallest structure in the United Kingdom, has been demolished in a spectacular dusk explosion.
An armada of yachts and vessels had sailed to the exclusion zone to witness the spectacle, which took place at 10pm precisely, followed a few seconds later by a sonic blast.
Crowds of onlookers had also gathered along the banks of the Firth of Clyde from Dunoon to Wemyss Bay to witness the event, which was all over in just seven seconds as a giant mushroom cloud dispersed into the gloaming.
Two metres taller than One Canada Square the looming behemoth was one of the last work's of RMJM's Sir Robert Matthew, whose smaller but no less interesting
Cockenzie Power Station
is reviewed this issue.
Named by Prospect/Urban Realm as one of the top 100 best modern buildings in Scotland Inverkip's looming presence will be sorely missed.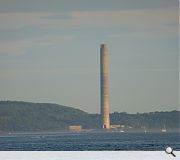 Inverkip's thrusting chimmney stack dominated the landscape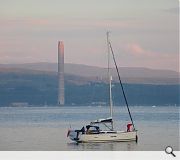 Inverki['s oil fired generators were uneconomical to run, sealing its fate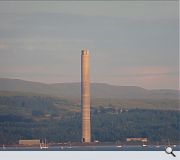 It took just seven seconds for Inverkip's 237 metres to collapse to zero.
Back to July 2013