University of Edinburgh submit McEwan Hall plans
July 25 2013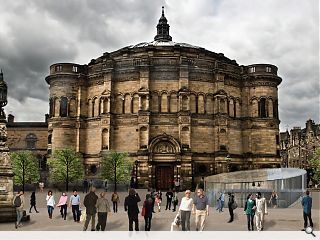 The University of Edinburgh has
submitted a £3.4m plan to revamp the McEwan Hall
by opening up a cavernous basement beneath the venue and introducing a new entrance from Bristo Square.
Designed by LDN and Buro Happold this scheme is designed to restore the A listed Robert Rowan Anderson building to its former glory whilst enhancing accessibility and increasing capacity.
This is achieved through a contemporary glazed pavilion which would act as the main access point to the renowned hall.
In a statement the University said: "The University of Edinburgh's vision is to reinvent the McEwan Hall, opening the ceremonial building for future audiences and activities while restoring it to its 19th century brilliance. The Hall was built between 1888 and 1897 thanks to a private donation of £115,000 by the founder of the Edinburgh brewing firm, and MP for Central Edinburgh, Sir William McEwan. It was Sir William McEwan's wish for the magnificent ceremonial hall to be made available to the people of the City.
"Our goal is to restore the McEwan Hall building to its former glory while taking the opportunity to open this splendid ceremonial hall for the wider public to enjoy through increased cultural, educational, artistic and community activities. It will create new spaces for conferences, exhibitions, events, education, and catering, meeting the demands of high quality building restoration while fulfilling the original vision of its benefactor."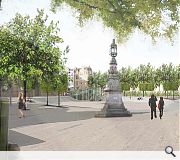 Bristo Square, though popular with skaters, isn't as attractive a place to linger as it could be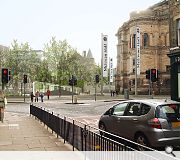 LDN are keen to avoid any pastiche in their design approach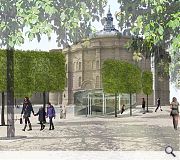 Work to restore the existing Hall is already well underway
Back to July 2013