Rope Factory to put Merchant City on the map
July 24 2013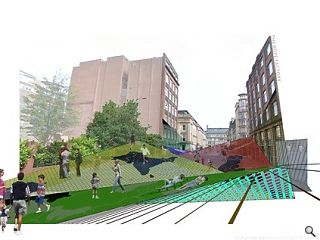 Plans to erect a giant cargo net across Brunswick Street, Glasgow, have been unveiled by Icecream Architecture as part of wider 'one year to go' celebrations for the looming Commonwealth Games.
Produced on behalf of Glasgow Life the piece has been hand tied and knotted and is designed to represent the globe, with Commonwealth countries braided in 71 vivid colours.
A team of volunteers from 20 countries wove 6,500m of rope and tied over 10,000 knots to fashion the piece.
Suspended from a scaffold frame the art installation will enable passers-by to clamber on top, climbing up to 3m above the street to gain a different perspective on the Merchant City whilst circumnavigating the world and learning more about participating nations.
Commenting on the scheme Icecream's Robert Frood said: "The Rope Factory is a hand tied, hand knotted piece of sculpture conceived and designed by Icecream Architecture as a work of giant contemporary craft. As well as great fun to visit, and beautiful to look at, it is a consideration of art as a skill learned, developed and practised - Something that can be taught and passed on through the process of making "
The artwork will be open to the public from 12:00 – 17:00 from 26 July for three days.
Back to July 2013