Pollokshields shared campus considered by planners
July 12 2013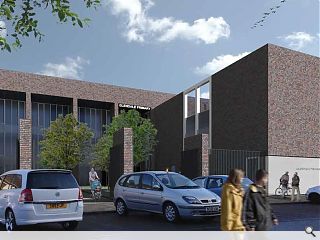 Glasgow City Council's education services have
prepared plans
for a
£12.2m shared schools campus in North Pollokshields
, incorporating both a replacement Glendale Primary and integrated Gaelic school.
Each school is located in a separate wing at front and back around a central shared playground with a harmonised architectural language of three storey carved openings and brick piers.
Taking a break from the typical suburban school layout of marooning the main teaching block within an island of playgrounds the school adopts a more urban approach with a three storey blue brick clad structure fronting a new community square.
This public space is delineated by a series of brick piers between which the school gates are strung.
Incorporating 11 classrooms, an assembly hall, gym and drama room the scheme adjoins East Pollokshields conservation area and will entail demolition of the existing 1970s built school.
Work on the new school is expected to begin this September for completion by 2015.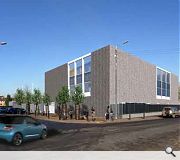 A blue brick was chosen in deliberate contrast to the blonde sandstone of neighbouring tenements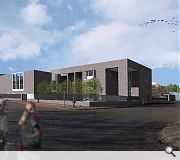 A transparent urban edge of gates and piers was modelled on Scotland Street School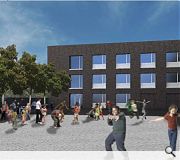 Fenestration presented to the shared playground is more modest in scale
Back to July 2013