Safedem commence demolition of Roystonhill tower block
July 10 2013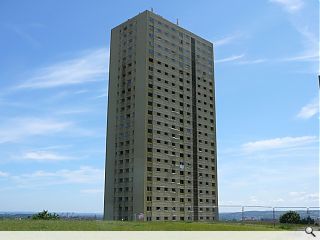 Safedem, on behalf of Glasgow Housing Association, has commenced the strip out of 20 Rosemount Street, Roystonhill, one of three blocks scheduled for demolition on the estate through to 2015.
Consultation with residents sealed their fate after it was found that the flats were in low demand and would prove expensive to refurbish.
The demolition requires the relocation of 420 existing tenants to alternative accommodation in the local area or to new build accommodation elsewhere in the city.
Alex McGuire, GHA's Executive Director of Development and Regeneration, said: "We consulted closely with residents in each of these neighbourhoods. Every area was different and we've brought forward plans which we think best meets the needs now and in the future of that community.
"Where we've decided to keep homes we'll carry out major refurbishment work to make the houses modern, comfortable and attractive.
"In some cases, where demand for properties is much lower and the flats are too expensive to maintain, we've decided to go ahead with demolition to make way for future regeneration work."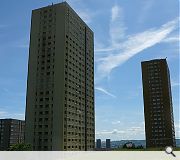 All the tower blocks in this picture (including bluevale and whitevale in the background) will be pulled down over the coming years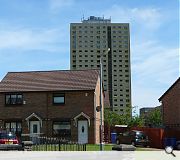 Infill housing delivered thus far has been low-density and uninspired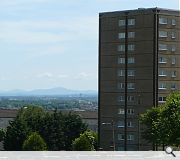 Landmarks as far apart as Ben Lomond and Tinto can be clearly seen from the top of Roystonhill
Back to July 2013