Planning permission sought for Sighthill regeneration
July 10 2013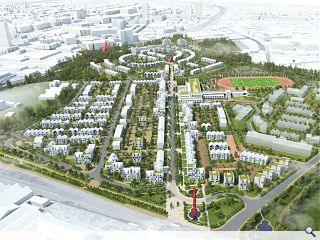 Glasgow City Council has unveiled details of its in-house £250m vision for the Sighthill district of Glasgow, transforming the tower block estates of Fountainwell and Pinkston into a new low-rise community connected to the city centre by a new pedestrian link bridge across the M8.
An application for planning permission in principle for the project, the biggest infrastructure and remediation project to be undertaken in the city since construction of the M74, details plans for 791 new homes on the 50 hectare site.
This would swell the present population of 1,100 to over 3,000 with further scope for a 500 space student residential development, a small retail presence and a potential hotel.
A school campus with associated community and sports facilities will form the heart of the new community alongside a 'village square' with a heavy emphasis placed on public realm and landscaping throughout the development.
This will feed into a revamped Sighthill Park by way of a new 'linear park' of SUDS, open spaces and landscaping.
Plans for the area were fast-tracked as part of Glasgow's unsuccessful bid to host the 2018 Youth Olympics.
Back to July 2013