Paper+ Architects stage London Paper Salon
May 24 2013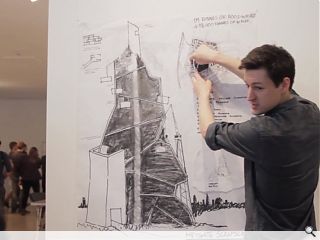 The latest Paper Salon, a forum for young architects to come together to explore experimental architecture, has been staged in London drawing talent from around the UK to focus on the housing crisis presently gripping the capital.
Inspired by the non-conformist thinking of the Moscow Paper Architects the day-long programme of discussion, drawing and debate was opened by Anna Gibb and Ross Anderson who had both travelled to Russia to study the group and subsequently formed Paper+ Architects.
Earlier this year the inaugural Paper Salon
discussed the future of George Square
but this time round attention switched to the infamous Heygate estate.
Commenting on this process Anderson remarked: "We were inspired by the Paper Architects working free from restriction and convention and engaging with each other intellectually."
Tutor Alan Dunlop added: "I'm interested in drawing as a means of communicating architecture as a consequence of my experience of 20 years teaching young students about how to develop their architecture.
"A hand-drawing for me is much more valuable as a piece of art rather than a way of communicating architecture with a computer generated image."
Back to May 2013