MAKLab shortlisted for Google UK Global Impact award
May 24 2013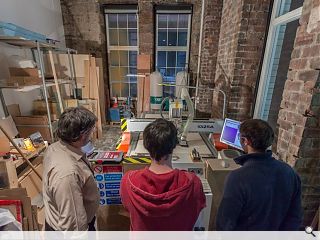 MAKLab, the digital fabrication workshop, has been named as a finalist in a Google UK competition to find the most innovative social enterprise in the UK.
Along with nine other finalists MAKLab is being
put to a public vote to determine the best with the ballot closing on 31 May
.
Commenting on what a win would mean MAKLab founder Bruce Newlands said: "Winning the Global Impact Challenge would mean that MAKLab could expand their concept across the UK to four other cities including London, Newcastle, Edinburgh & Aberdeen.
"It would mean training up to 600 young people to use advanced creative digital fabrication technologies helping them to start their own businesses over the next three years, we think this is crucial given that is almost one million unemployed 16-25 year olds currently in the UK."
A judging panel which includes Sir Richard Branson, Sir Tim Berners-Lee and Jilly Forster will then name three awardees and the publics choice at an event on 3 June.
Back to May 2013