Maggie's Newcastle officially unveiled
May 15 2013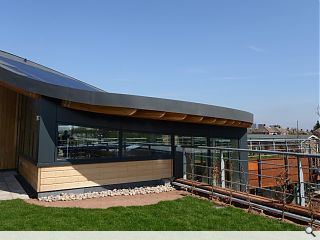 Maggie's Newcastle,
the latest in a series of cancer support centres to be completed by the charity
, is to be officially unveiled tomorrow at the city's Freeman Hospital.
Designed by Cullinan Studio the scheme is intended to bring happiness to the lives of people living with terminal cancer and as such focusses heavily on green spaces; including a courtyard, roof terrace and avenue of trees created by Sarah Price.
Care has also been taken with internal spaces, devised by Abercrombie Interior Designs, which are furnished with colour, textures and natural materials such as metal, wool and wood – a conscious attempt to encourage more men to visit.
Project architect Ted Cullinan said: "The new Centre injects a seasonally responsive, fluxing, landscaped realm into the Freeman Hospital grounds. Responding to the forces of sun and time, the Centre sits still within its landscaped banks and under a planted roof allowing copper beeches, cherry blossom, crocuses, wild flowers and herbs to delight with the seasons.
"The Centre's roof hosts planting and games at its lower level and absorbs and transforms the sun's energy at the higher level. With courtyard doors thrown open in summer or chairs clustered around a central fireplace in winter the Centre offers spaces of repose and retreat, prospect and refuge."
Back to May 2013