Aberdeen invites tenders for £15m River Don road bridge
May 16 2013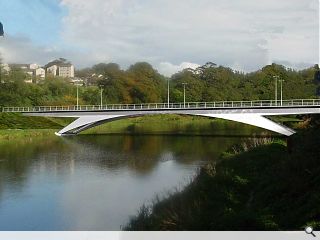 Aberdeen City Council has lodged a formal invitation for bidders on a £15m road bridge, spanning the river Don.
Known as 'The Third Don Crossing' the scheme has been in the works from as far back as the 1970s and will also involve construction of a new £15m link road to improve access from the north.
Finalised designs drawn up by the Council envisage a twin-bridge structure with a span of 90m with facilities built in for cyclists.
Up to eight contractors will be invited to bid
for the works only contract, which is set to commence on site in the autumn for completion by 2015.
Construction will take place in tandem with the
Aberdeen Western Peripheral Route
, opening up the opportunity to transfer earthworks and carriageway materials between the two.
Back to May 2013