Architect homes in on Todhead Lighthouse
May 9 2013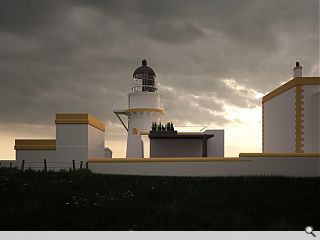 Moxon Architects have
submitted a planning application to Aberdeenshire Council
for the restoration, conversion and extension of the B listed Todhead Lighthouse, Stonehaven, to form a two bedroom home.
Built in 1897 by engineer David A Stevenson the short circular tower adjoins a two storey accommodation block with a walled compound, much of which comprises painted fireclay brick.
It was sold in 2007 when the clockwork lantern and Fresnel lens was removed and donated to the National Museum of Scotland, the void it left behind being turned into a panoramic living space from which to soak up views across the North Sea.
The new des-res will extend horizontally through a number of converted and extended blockhouses with the junction between old and new marked externally by a flight of stairs leading to a new roof terrace and a ribbon of frameless glazing.
Fuse boxes, switch gear and equipment housings dating from the lighthouse's 1973 conversion to electric power will be retained where possible through playful transformation into domestic storage.
Ben Addy, director of Moxon Architects, said: "The existing fabric was designed and built to a very high standard with an incredible degree of precision, especially in the brickwork for the tower which tapers in two directions over the height of the structure.
"The tower is also notable for the unusual use of enameled fireclay bricks both internally and externally and aside from critical restoration works the only alteration will be the installation of a glazed floor to the lamp room such that it can become a living space from which to watch the storms roll up the coast…"
Back to May 2013