Stallan's 'Inhabited Painting' puts Colintraive in the frame
May 9 2013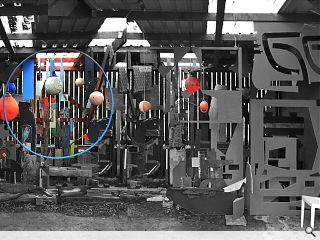 Paul Stallan, design director of Stallan-Brand, has unveiled his latest artwork – a three dimensional painting which puts architecture at its core.
Installed within a boatshed at the Colintraive sculpture park the Inhabited Painting is composed of locally found objects and materials which were assembled in-situ over a number of weeks - its form and shape continually evolving until 'visual balance' was attained.
These Magpie like tendencies have resulted in a dynamic piece which shifts appearance as the sun arcs across the sky as light spills through the slatted shed enclosure. The installation is also sensitive to the subtle movement of air, moving gently in the wind to give the impression that the space is 'somehow alive'.
Stallan describes his inspiration as childhood experiences growing up in the slums of Glasgow 'playing in the bins' and building dens. He explained: "The artwork was as much about the process of making and exploring form as it is about the finished piece."
Open to the public the shed space and sculpture are to be used for educational workshops with local art classes and school parties exploring the shapes and shadows within the work through drawing.
The work is a follow-up to Brand's 'Stolen' exhibit; headline piece at
Will Alsop's Testbed Space
, with both pieces being deconstructed through photography to form architectural diagrams that inform the formal relationships at play in Stallan's dual role as 'part artist, part architect.'
Back to May 2013